A Colorado Shangri-La - Carter Creek Backpack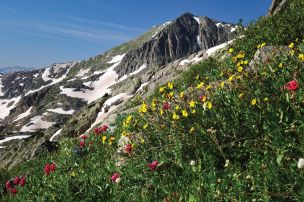 By Tim Cooney
In the 1933 novel, "Lost Horizon" by James Hilton, the author describes a fictional Tibetan land, originally called "Shambala" whose name he changes to "Shangri-La." Isolated from the outside world by a ring of high and rugged mountains, Shangri-La is a paradise valley with utopian overtones. The term has come into such common use that dictionaries even offer a definition of Shangri-La. It can be a "remote, usually idyllic hideaway," or "an imaginary place where life approaches perfection."
In our 40 years of climbing Colorado summits, we have visited a great number of mountain locations and valleys this state offers. We are often asked, "which peak did you like the most or dislike the most?" Or, "which peak was the most difficult?" But we do not recall anyone asking us "what's the most beautiful place you've ever been to in Colorado?" In this article, we would like to tell you about the Shangri-La we discovered in July of 2014; a valley difficult to reach, shielded by rugged mountains, a virtual Colorado paradise and a hideaway where few ever visit in the Holy Cross Wilderness.
First steps
In mid-July we departed town to backpack into an area we had never been before, expecting to encounter some of the winter's snows still not melted by the summertime heat. Our primary goal was to climb some high, 12,000 foot summits. What we encountered was far more than what we expected. Leaving Grand Junction, we drove to Glenwood Springs, then Basalt and took State Road 104 east to Ruedi Reservoir. We continued on the serpentine road as it climbed and twisted above the scenic lake, then dropped back down. Four miles past the reservoir inlet, we turned on County Road 4, driving past the Elk Wallow campground on a graded dirt road and continuing a few more miles along the north fork of the Frying Pan River to a trailhead parking area for the Savage Lakes.
The trail to the Savage Lakes is how most sane people will access Carter Creek – our actual destination. That trail (#1918) climbs 1,200 feet, mostly east toward the Savage Lakes (a scenic location very much worthy of a visit) and then another trail (#1944) branches off from near the lakes and loses 600 feet in elevation by heading back west and dropping down to Carter Lake on several broad switchbacks. We felt this was unnecessary mileage and elevation gain and loss so we decided to attempt a shorter route to Carter Lake. Driving back down the road a short distance, we located where Carter Creek crosses the road and spotted a trail on the north side of the creek heading up the hillside, roughly following the creek. We congratulated ourselves on being so clever as to find this unmarked trail, tossed on our backpacks filled with three days supplies and optimistically headed up.
Passage
In less than fifteen minutes we discovered that the route to Shangri-La can be fraught with difficulties. The so-called "trail" soon disappeared amid a forest of standing and fallen trees. Soon we found ourselves tripping over hidden logs, clambering over a maze of fallen trees, sloshing through tall, wet vegetation and then the real problems began. We also discovered rock outcrops and impassable cliffs that sent us searching for a break that would allow passage further up valley. Always keeping Carter Creek within earshot, we struggled and fought our way up through the bushwhacking morass steeply gaining over 800 feet in elevation and about an hour later, by sheer instinct, intercepted the trail #1944 that branches off from the Savage Lakes trail. In about five more minutes we were at Carter Lake.
Congratulating ourselves that we made this portion of the trip in only an hour and without aid of GPS or compass, we thought maybe the worst was over. That dream soon fled as we began following what three maps indicated would be the trail around the eastern shore of the lake and then heading northeast for a while on the east side of Carter Creek. The USGS quad, Trails Illustrated and White River National Forest maps all indicated this, so when we saw a trail heading east along the shore of Carter Lake, we dutifully followed. But soon that self-congratulation dissolved into another struggle to find a route through more bushwhacking terrain. At least the valley was flatter at this point.
Eventually, after another hour of bushwhacking, we reached an area where the trees opened up and we enjoyed a view up valley but the confusing trail kept us guessing and making wrong decisions. Later, more than frustrated, we decided to just keep walking on the east side of the stream and locate a campsite. Soon we found a comfortable location, somewhat hidden away from the stream, but with a small rivulet below us and a little shielded from cool evening breezes by some low trees on either side. We did not know it yet, but we had fought our way into the perimeter of a Colorado Shangri-La.
Mountain Valleys
Since it was only early afternoon, we had time to climb one of the peaks we had planned, so from our campsite we continued up along Carter Creek. We soon learned there was a trail on the opposite side of the creek. We followed it up to the first of a series of seven lakes, all teaming with abundant trout, and obtained our first real view of this idyllic upper valley. Along the way we passed a beautiful section of cascading stream, the summer snowmelt waters tumultuously rushing down, followed by a flat area with numerous, placid, small pools. The peak we climbed looked down upon this valley and also afforded a view over into the Missouri Lakes. In the afternoon light with a brief rain shower to cool us, we could see far below that series of Carter Lakes and our anticipation grew for the hike we had planned on the morrow. We enjoyed an evening of solitude that day, left alone in prime wilderness.
The next morning, our climbing plan would take us all the way to the head of Carter Creek, across a pass and drop us over to the headwaters of Cross Creek. The further we hiked, the more we found ourselves overwhelmed by the beauty of this valley. The upper lakes were still partially frozen with icebergs floating on the surface. Extensive patches of winter snow remained, obscuring the faint trail at times. Our ice axes proved handy for walking on some of the steeper slopes. Early summer flowers were emerging and the higher tundra was turning a rich green in places. We passed by several possible campsite locations, all of which would make you feel as though you had found your earthly paradise. We stopped frequently to photograph the various scenes. In fact, we stopped so much that it added at least a couple hours to our hike this day.
Heading north over a pass, we dropped in elevation to Blodgett Lake, a large body of crystalline water that reflected the rugged peaks and ridges behind it. The hike to the head of Carter Creek and now Blodgett Lake, framed by both sky, snow and rock reminded us of photos we have seen of the Alaskan Brooks Range. A vast tundra basin stretched out before us at the head of Cross Creek. Appearing as something of an anomaly, the tundra-covered Middle Mountain stood center valley dividing Cross Creek from West Cross Creek. As we walked past a low saddle, we spotted in the tundra below us a small herd of mountain goats, who so far were oblivious to our presence. Where's your super telephoto lens when you need it? Then just a short time later, we spotted a small group of elk. They had already sensed our presence and were on the move into the cover of nearby trees.
As we hiked back over the pass from whence we had come, we paused many more times to take photos. We passed some anglers near Blodgett Lake who had packed in all the way from the Missouri Lakes trailhead to try their luck catching wily mountain trout. The afternoon lighting brought an entirely different scene. A particularly memorable one was at a shelf-like location where small pools of water in a marshy, shaded area reflected the towering and brightly lit Savage Peak. We spent another evening enjoying our camp dinner and reveling in the wilderness solitude.
Our final day would take us to one more peak by way of going back up the same trail into the Carter Creek headwaters. By now, we knew the path and had a better idea of the best photographic spots. We moved a little more rapidly until we arrived at the larger, half-frozen lake just above 11,600 ft. From there, we toiled up a steep tundra slope beautifully laden with summer wildflowers like paintbrush and bluebells. The tundra gave way to a rocky shelf and then a scramble up a narrowing couloir that led to a notch. Afterword, we gingerly walked along small, exposed ledges to gain our final summit for this trip. At this high vantage point we could gaze down into the headwaters of Lime Creek. The Strawberry Lakes lay nestled in this secluded valley nearly two-thousand feet below us.
Leaving our last summit behind, we reluctantly hiked back to our campsite a final time, the rhythmic cascades of Carter Creek soothing our spirits and giving us a reprieve from the busy, every-day-life we would all-too-soon return to. Packing up our camp, we departed in the early afternoon. We crossed over the creek to the west side and picked up the trail that had so successfully eluded us two days before. When the trail came to the head of a narrow rock gorge carved by the relentless stream, we discovered that it crossed over the creek to the east side through willows and continued along the edge of the gorge until it crossed back over to the west side at the bottom of the gorge and remained there all the way down to Carter Lake. It was at the lake that we learned the trail remained on the west shore of the lake until it came to the lake outlet. Here, we could cross on a series of fallen logs, looking down upon trout warming themselves in the shallower waters. Instead of staying on that trail as it gained 600 feet in elevation near lower Savage Lake, we decided to try again to bushwhack our way back down in a more direct route to our waiting vehicle.
Perseverance
There's an old saying that goes, "Fool me once, shame on you. Fool me twice, shame on me." This second bushwhack attempt went no better than the first, nearly making fools of us, but with perseverance, we made it back down and actually picked up the vestige trail we had started out on no more than ten minutes from our vehicle. We would return now to the summer heat of the valley, leaving behind the refreshing mountain air, but this brief, three-day trip had revived us and as we departed, we felt that we had found our mountain Shangri-La.
High quality prints of photos from this article, as well as other photographic work from Tim & Carrie Cooney are available online at highestgroundphotography.com